MADVR ENVY INTRODUCES AUTO-SUBTITLE MANAGEMENT AND WHY IT MATTERS
Subtitle Management with Scope Screens
We recently covered how our non-linear stretch (NLS+) platform makes it easy to fill your entire screen, regardless of its aspect ratio (AR) and the AR of the content. In case you are not familiar, a "scope" screen generally refers to a screen that is wider than the standard HDTV 16:9 aspect ratio.
In today's newsletter, we're changing gears a bit to answer a related question that often comes up about subtitles - specifically how to handle subtitles within the black bars in scope movies.
Understanding the Problem
Subtitles within the black bars of a scope movie are a problem, because when using a scope screen to watch a scope movie (e.g. watching a 2.40 AR movie on a 2.40 screen), the projector is usually zoomed so that the movie fills the entire screen, like this:
A scope movie on a scope screen, as meant to be watched
While filling the screen like this makes for a highly immersive viewing experience, it creates a problem whereby the subtitles will no longer appear on the screen. Where do they go? Well, on the masking, and or below and above the screen of course! Like shown in the below simulation: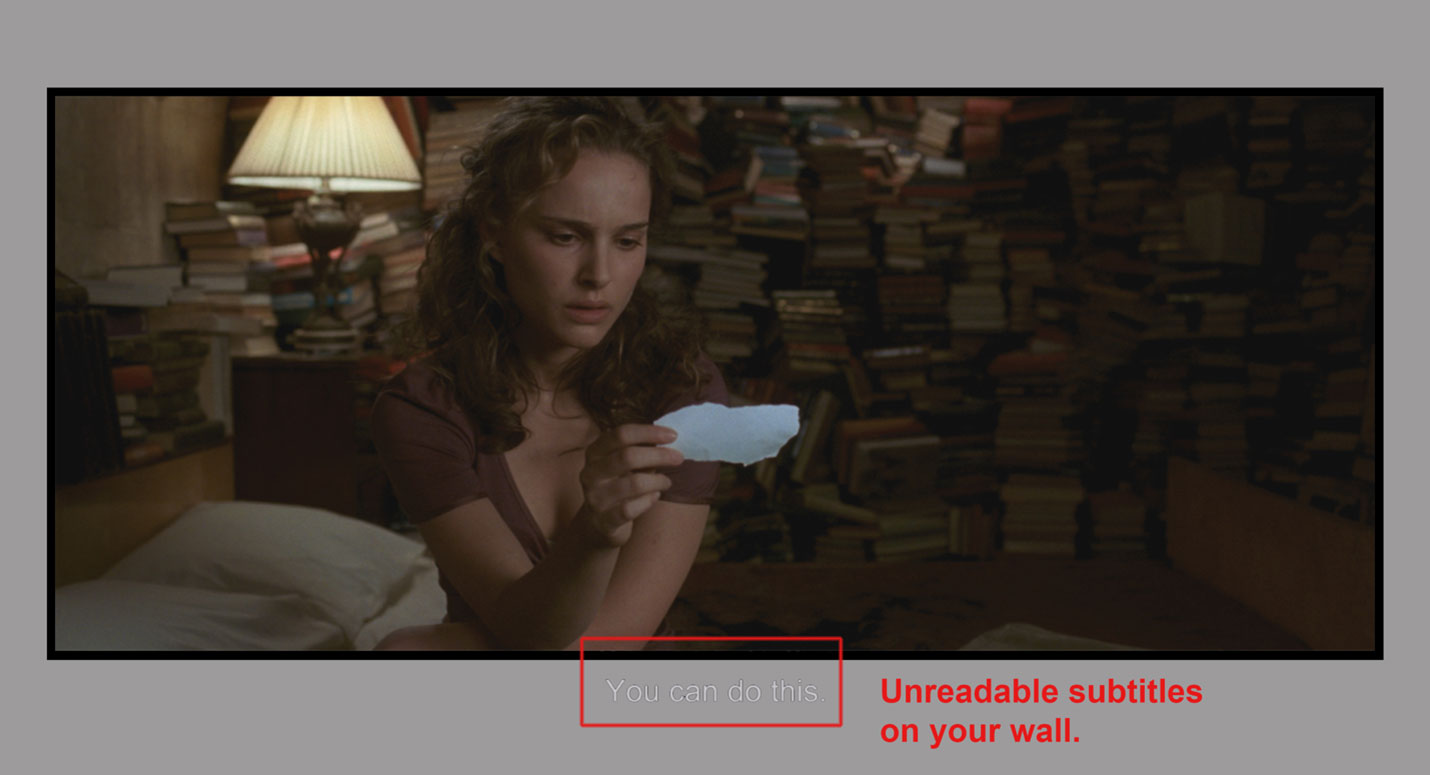 With the projector zoomed to fill the screen, there is no zoom left for the subtitles!
Not only is this a problem because you cannot read the subtitles, but it's also highly distracting to have subtitles on the masking, wall and or ceiling.
Managing Without an Envy
Without an Envy there are a couple of choices to address the problem. The first choice is to not zoom out to fill the screen and watch the movie like it is 16:9 content. This creates what some refer to as a "window box", since there are now black bars on all four sides of the image, like this:
Watching at 16:9 with proper subtitle placement, but with a huge loss of immersion.
While you lose a lot of immersion due to the much smaller image, at least the subtitles are on the screen, regardless of where they appear, and how many lines of subtitles there are.

An alternative approach is to zoom out part way - enough to keep the subtitles on the screen. This can be a good alternative to watching with large black bars all around, since there is no other choice. But you must manually change the lens zoom position and be careful about the size and position of the subtitles to get this right, which may often differ with each movie.

For example, you may set your zoom position to fit one line of subtitles, but there may be times in the movie where there are two or three lines of subtitles. Without already knowing the movie, it can be hard to predict where to set the lens zoom position. This may also lead to having to make adjustments during the movie as well.

If you set the zoom position too aggressively, you will have a somewhat larger image, but may wind up with subtitles off the screen in certain scenes. Set it not aggressive enough, and you may wind up watching the movie with a smaller image than necessary. It can also get tricky when your significant other, or other family members, want to watch a movie without you there to guide them every step of the way.

In any event, with these approaches you still lose out, because you must watch a smaller image, with black bars, for the entire movie, even during long scenes that have no subtitles! Sure, it's an "OK" compromise compared to watching the entire movie with full black bars. But we must ask ourselves, why should we need to make any compromises when it comes to our home theater passion?
The Best Solution, Without Compromises
At madVR Labs we don't believe you should have to make compromises when it comes to the video quality and immersion of your home theater. That's why the madVR Envy is the only video processor that dynamically makes room for embedded subtitles in real-time as they appear, while also ensuring the maximum image size is always available, even while still fitting the subtitles. Let's have a look: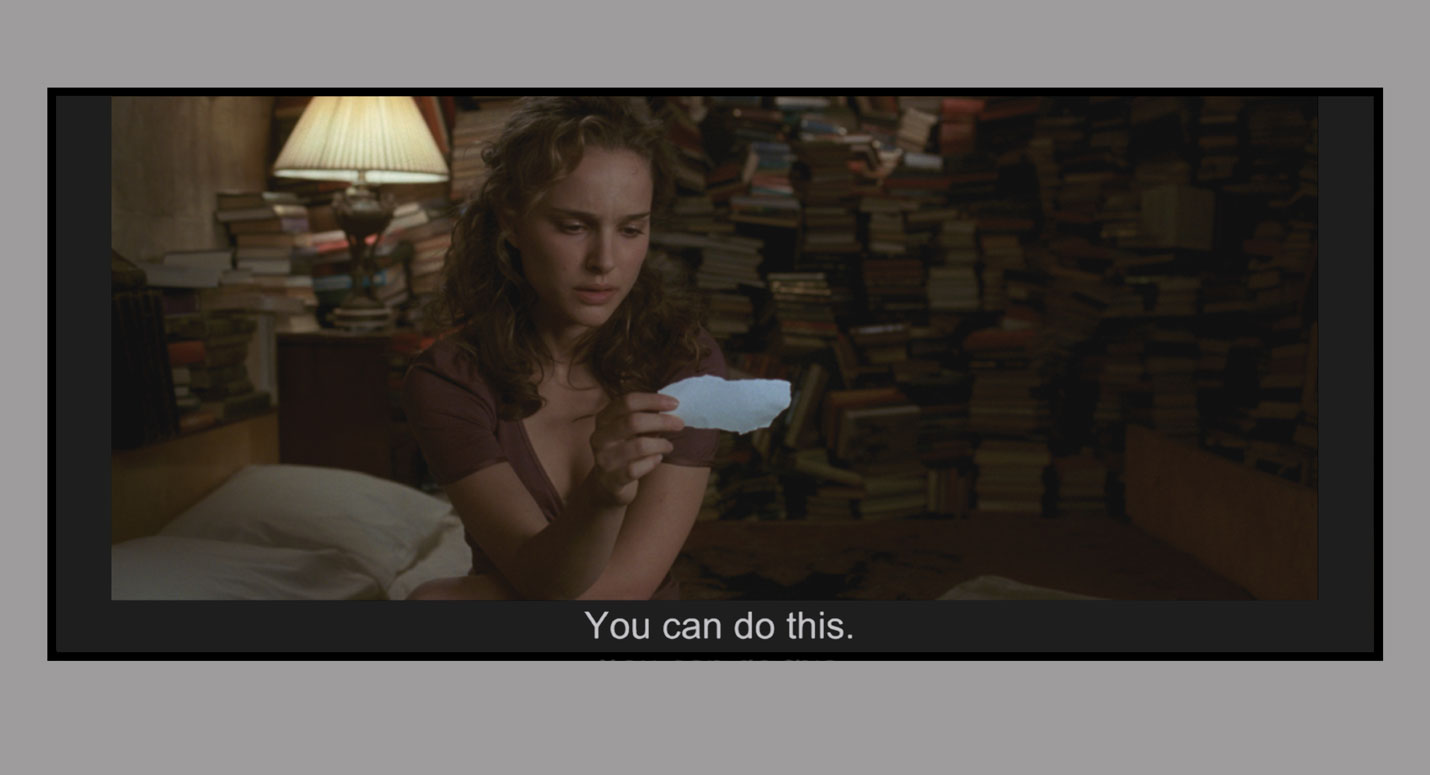 Envy dynamically resizes the movie, always maximizing its size, without losing subtitles!
Notice in the image above how Envy brought back just enough of the black bars needed to fit the subtitles on the screen. Notice too that there is also no black bar on top. This enables you to enjoy the movie at the largest size possible, while still not missing any subtitles. After your preferred amount of time without subtitles passes, Envy will restore the full 2.40 image to once again fill your screen, until the next scene when subtitles reappear.

How Envy Subtitle Management Works

With Envy dynamically adjusting the image size based on the subtitles and their position, naturally the question comes to mind about how we ensure the image size isn't changing too often to be distracting. After all, there are many scenes where there are breaks between dialog, and we wouldn't want the image to keep changing its size each time a new subtitle appeared.
With Envy, you are in full control over how and when it adjusts the image size. If you prefer to maximize the image size and don't mind the size changing more often, pick a short delay like 5 or 15 seconds. Otherwise, a good choice is 45 seconds. Or if you don't want the image size to change at all once subtitles are detected, choose "Until the end of the movie" and Envy will keep the minimum black bars needed to fit the subtitles during the movie without going back to full size.
For cutting-edge information on madVR envy, contact Frangioni Media today!